Attend our 2023 National Convention & Awards in Atlanta!
Our signature Kinship event will be held at the Omni Hotel at the Battery Atlanta and Truist Park, home of the Atlanta Braves!  Come celebrate 20 years of Tarkenton Financial with an event like never before!
There truly has never been a better time to be in the Retirement Income industry.
PEAK number of retirees in 2024
Stock Market Volatility & Inflation Concern
Interest Rates at Historic High Levels
High consumer demand for Income Generation
COVID Restrictions Lifted
Record Numbers at Marketing Events
NOW is the time for you to get BACK ON TOP, as we educate and energize you to get your business and life to PEAK levels, with:
High-Impact Coaching:
Case studies and direct coaching from top advisors who have increased their sales by 25-50% in the past two years
Effective marketing strategies that are filling up workshops with interested prospects
A new program and training specifically focused on marketing to business owners
Advisors and experts showing you how to introduce life insurance to your product portfolio
Production Innovation Panel with sales ideas about perfectly positioning our products
Complimentary professional headshots for attendees ($200 value, first come, first served)
Innovative New Programing on Topics such as:
Leveraging Google to attract prospects
Why a well defined process is the key to success
How to build a powerful, persuasive personal brand
Cultivating truly unique client appreciation events
How Balance can make you a more productive advisor and person
Keynote Speaker:
Hear an inspiring message from our keynote speaker, Atlanta Braves legend Dale Murphy!
Get ideas and strategies to raise your game to the highest level
Plus, an all-star lineup of speakers and presenters!
Recognition:
Awards gala inside Truist Park in the Hank Aaron Terrace
Top 25 Advisor Awards and Special Recognitions
Announcement of our 2024 Top Advisor Forum location
Kinship:
Experience the unique culture of our advisor family
Top 25 advisors take batting practice inside the stadium
All attendees enjoy tours of the stadium and other activities
Fellowship of Christian Advisors meeting
LET'S ALSO CELEBRATE 20 YEARS!
Tarkenton Financial has been proud to work with the best family of advisors in the business for the last twenty years! Over the last 2 decades, our industry has seen its ups and downs, experienced both triumphs and challenges. Tarkenton Financial is positioned to enjoy continued growth for years to come!  Let's celebrate our current family of advisors and remember some of the milestones from the last two decades!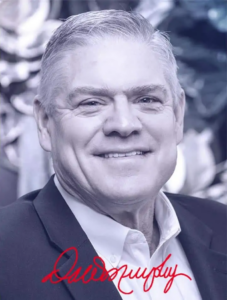 Featuring our keynote speaker, 2x National League MVP and Atlanta Braves legend Dale Murphy!
Dale Murphy was chosen by the Atlanta Braves in the first round of the 1974 Major League Draft and made his major league debut in 1976.
Although he began his career as a catcher, he spent a short time at first base and finally ended up in the outfield where he became the youngest player in history to win back-to-back MVP awards (1982 and 1983), was named to the National League All-Star team seven times, earned four Silver Slugger awards and five Gold Gloves. During his 1983 MVP season, he became the only player in history at the time to compile a .300+ batting average, 30+ home runs, 120+ runs batted in, 130+ runs scored, 90+ bases on balls, and 30+ stolen bases in one season. During the decade spanning 1981-1990, he led the major leagues in home runs and RBIs. He also led the National League in games, at bats, runs, hits, extra base hits, runs created, total bases, and plate appearances during that same period of time. With 7,960 at-bats, he retired in 1993 after a long and successful career with the Atlanta Braves (1974-1991), the Philadelphia Phillies (1991-1993), and the Colorado Rockies (1993.)
Dale was one of the most beloved athletes to ever play in Atlanta. His number (#3) was the fifth in Braves history to be retired joining those of baseball greats Hank Aaron, Eddie Matthews, Warren Spahn, and Phil Niekro and hangs today in SunTrust Park.
Known as one of the true gentlemen of the game, Dale has always led by example, giving his time and lending his name to numerous charities throughout the years. In 1987, he was named by Sports Illustrated as one of the "Sportsmen and Sportswomen of the Year," representing baseball as the athlete "Who Cares the Most" and was honored as such by President Ronald Reagan at the White House.
Dale received other humanitarian-related awards during his career including The Lou Gehrig Award (given to the player who best fits the image and character of Lou Gehrig on and off the field), The Roberto Clemente Award (given annually to one major league player in recognition of his character and charitable contributions) and the Bart Giamatti Award. After his retirement, Dale was inducted into the World Sports Humanitarian Hall of Fame.
Dale is a highly sought after business and motivational speaker. He uses experience from his long major league career to teach principles relating to Teamwork, Resilience, and Creating a Winning Culture. He and his wife, Nancy, are the parents of eight children (seven sons and one daughter) and fifteen grandchildren.
"That event was one of the 5 greatest days of my life. I love being part of the Tarkenton Financial family."
– Robert R.
"Your conference was full of business impacting information.  I went looking for ideas that can take my business to the next level, and I was not disappointed."
– Steve D.
"Working with Tarkenton has been a game-changer. I've uncovered millions in assets thanks to their marketing. I love coming to their events and having a Hall of Fame QB for a business partner."
– Morris N.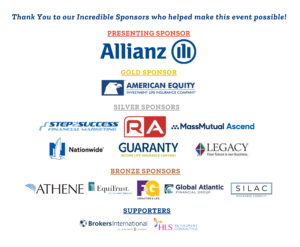 "I became an All-Pro on the football field because I put myself in a position to be coached by other quarterbacks and also surrounded myself with great teammates. As a financial pro, you have to do the same, and that's exactly what this event is all about. Come be part of this powerful team and this game-changing event!
Fran Tarkenton, NFL Hall of Famer & Founder of Tarkenton Financial